ZEBRAFISH 2020 VIRTUAL MEETING HUB
Once logged into the Online Meeting Platform you will access the meeting hub as shown below. This screen will be your gateway to all services during the Online Meeting.

Eg.1 ZEBRAFISH 2020 Online Meeting Hub
---
1. LIVE SESSIONS TAB

Use this section to select your preferred session within the online interactive program and link through to the live meeting stream and presentations.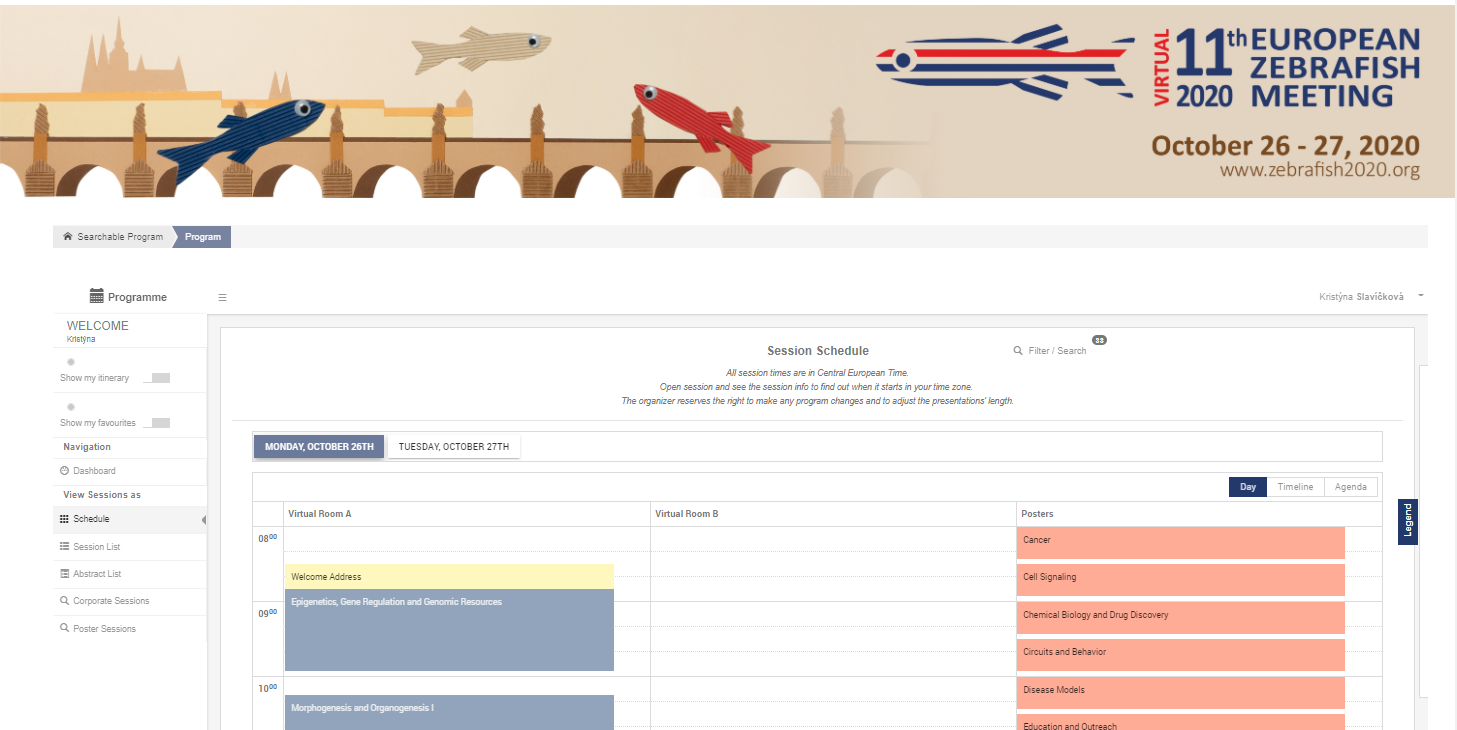 E.g.2 Online Interactive Program

Once you have opened your desired session you will see the details of speakers and topics (Eg. 3). At the top you will see a link to open the live session stream as shown in the red box below.
 

Eg.3 Session Details



Once in the live meeting stream you will see your session with a countdown and time for the presentation to start (Eg.4). The video will open a live feed of the presenter and their presentation slides. We invite you all to get involved in the session by sending questions to our speakers and moderators
 

Eg.4 Online Meeting Live Stream
---
2. VIRTUAL EXHIBITION & INDUSTRY SESSIONS
We would like to thank our industry partners for their strong support and are pleased to include a comprehensive virtual exhibition within the ZEBRAFISAH 2020 Virtual Meeting. The exhibition will feature over 10 exhibitors and supporters, providing attendees the perfect opportunity to reconnect with the latest updates in our industry. Be sure to visit each of the exhibitors for a range of materials and chat functions available. Within the virtual exhibition you can simply click on the company logo or search to visit a virtual booth.
 

Eg.5: ZEBRAFISH 2020 Virtual Meeting Exhibitor Example

The ZEBRAFISH 2020 Virtual Meeting will feature 3 informative symposium sessions from a range of leading companies in the industry. Be sure to visit the Industry session section for full details and information on the speakers involved.

We would like to thank of all our industry partners. Visit Confirmed Partners page.
---
3. E-POSTERS SESSIONS
Be sure to visit our comprehensive online archive of digital posters searchable by session types, discipline, author´s surname or key words. Posters will be available in pdf format and attendees will also be able to contact abstract authors for questions and discussion as desired.

Eg.6 E-Poster Session
---
4. PARTICIPANT LIST
We understand that meeting your colleagues is always an important part of every ZEBRAFISH meeting. For this reason, we have included this possibility within the online platform. All attendees logged in and giving their consent can be contacted either by a private message or invited for a video call within the meeting platform. The participant list includes a search function and link to both the chat and video options for participants logged in. You can also invite additional participants to your video call once established with a colleague.